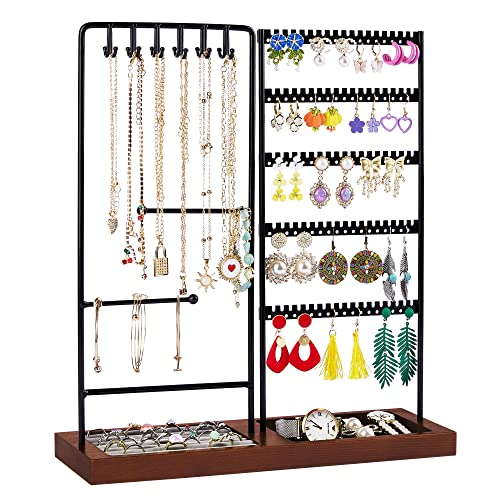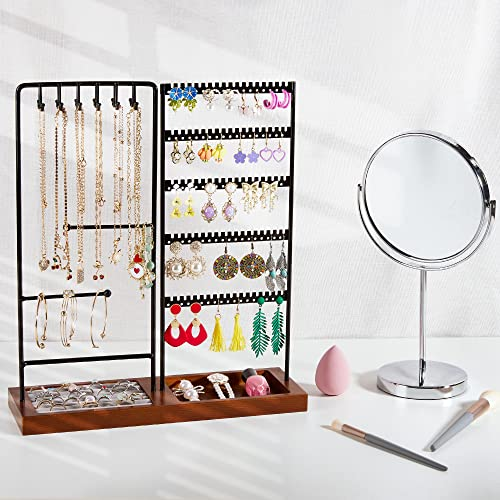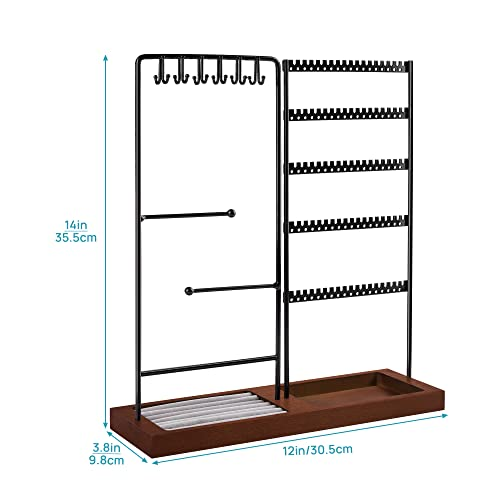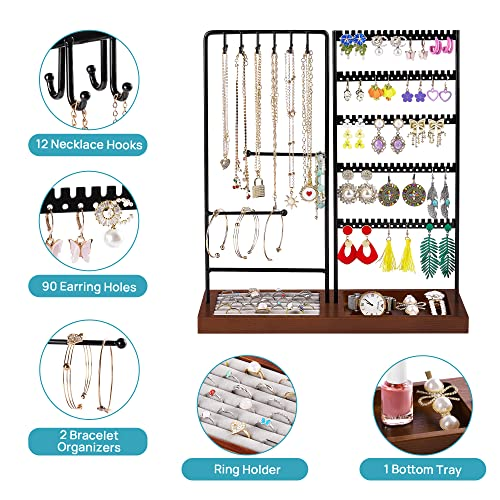 Vtopmart Earring Organizer, 5-Tier Earring and Necklace Holder Organizer Display for Selling, Jewelry Organizer Holder Stand with 90 Holes, Black+ Walnut
Model Number: SVM0802001

Keep Jewelry Organized: With this exquisite jewelry stand, necklaces will not get tangled up, earrings will not get lost, and you can quickly find the suitable jewelry to match your outfit without searching around for them, saving time and energy, start your brand-new day with a happy dressing experience.

Ample Storage Space: Vtopmart jewelry organizer has a large storage space. It measures 12"L x 3.8"W x 14"H. Includes 12 necklaces that can hang up to 23.6 inch, 90 earring holes, 2 bracelet bars and 5 rows of grooves for about 30 rings, suitable for long necklaces and earrings, and the bottom of the jewelry stand is perfect for storing small items like watches, lipstick, nail polish, hair clips and others.

Space Saving: Vertical jewelry holder stand will not take up too much space, it is suitable for small rooms or a dresser with a lot of stuff. Put it on the countertop, and it brings you a tidy and elegant dresser.

Idea Gift to Our Loved: Made of high quality metal and wood, the earring organizer has a classic and beautiful look, and it's very practical, which will be a perfect gift for your wife, daughter or girlfriend. Surprise your loved ones or friends on Christmas, birthdays or other holidays.

Easy Installation: This jewelry storage is easy to assemble without any tools. Just align the shelf with the hole and plug it in. It is sturdy enough that it will not shake when you take out your jewelry.