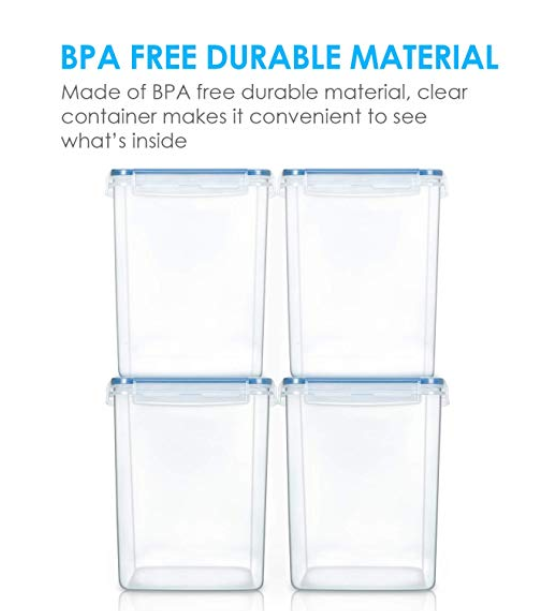 Vtopmart Extra Large Food Storage Containers 5.2L / 176oz, 4 Pieces
Model number: USVM02018

Make a Huge Difference in Pantry Organization ---- If you already got tired of messy flour and sugar bags, then don't hesitate to choose our large food storage containers. These flour containers will make everything looks neat and in order. Come with 4 premium food storage canisters, 4 measuring cups, 24 chalkboard Labels and 1 marker, this container set will also be an ideal gift for any family.

Perfect for Storing Dry Food ---- The size of each container is 7.5 x 7.5 x 9.1 inch ( 5.2L / 176 oz) , with the large capacity, these kitchen storage containers are perfect for many kinds of dry food and baking supplies, such as flour, sugar, rice, grain, chips, cereals, nuts, beans, snacks, pasta, coffee and tea. Plus wide enough openings to reach in with measuring cup.

Made from High-Grade Plastic ---- These pantry storage containers are made from high-grade BPA free plastic, which has decent quality. Containers are fairly sturdy and nice looking, which are worth every cent you paid for them. The clear plastic let you see what is in the container, you can get what you want easily without opening every container.

Seal Securely ---- Vtopmart airtight food storage containers come with Side-locking lids that ensure maximum freshness and prolonged food storage by sealing tightly. They will protect your food from air and water, so you don't need to worry about your favorite foods turning stale anymore! Please ensure that the lid is lined up properly in order to close them.

Stackable Design ---- With the stackable design, these plastic storage containers will make more efficient use of every inch of your home kitchen. Whether you have a large or small pantry, these durable containers will help you organize your kitchen and pantry better. Easy to clean and dishwasher safe, please hand wash the lid.