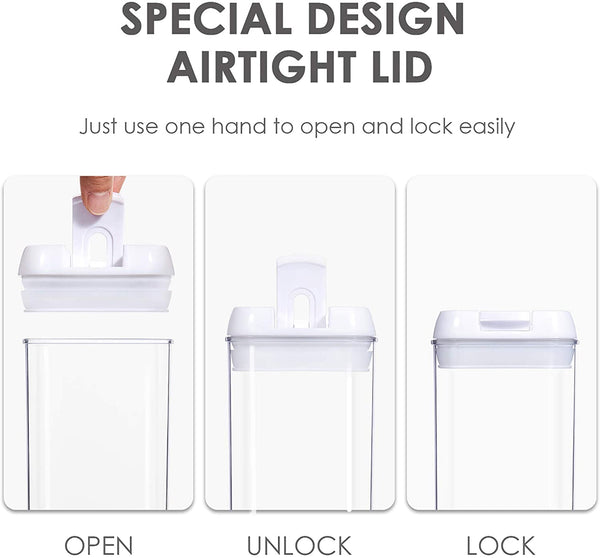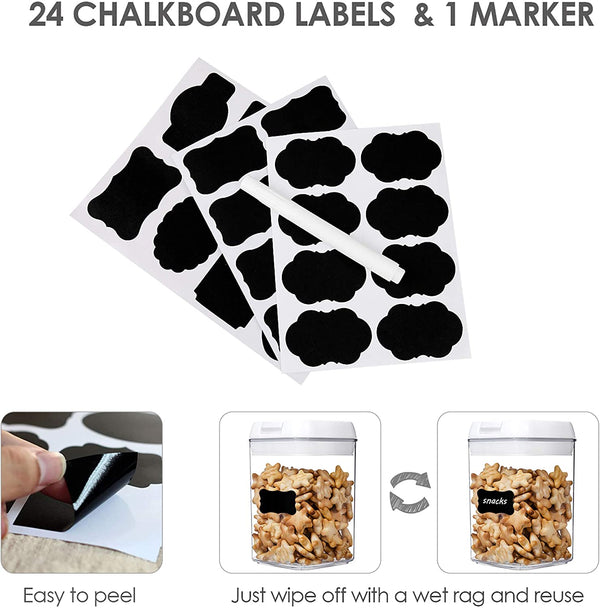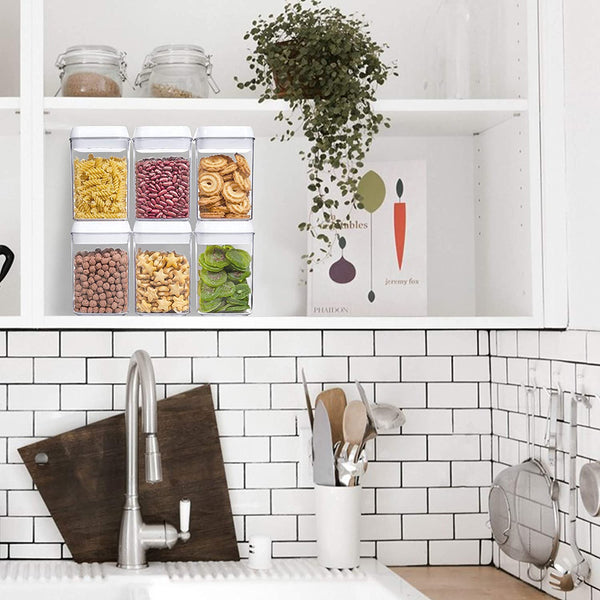 Airtight Food Storage Containers, Vtopmart 6 Pieces Small BPA Free Plastic Cereal Containers with Easy Lock Lids,for Kitchen Pantry Organization and Storage,Include 24 Labels
Model Number: USVM02086

6 Same Size Storage Containers ---- This kitchen organization set includes 6 small air-tight containers, which are all the same size. Each One has a 0.8liter capacity (0.7qt), measures 3.8 x 3.8 x 6 inch. Perfect for storing everything from flour, crackers, snacks, pasta, coffee, rice, sugar, to smaller servings of cereal.

Help Organize Your Kitchen and Pantry ---- Imagine waking up every morning and walking to the kitchen to make some breakfast, found everything is neatly organized. No longer messy, you can get everything you want very quickly. With square shape and stackable modular design, our food storage containers will make it is easy for you to organize your kitchen and pantry.

Clear containers allow you to identify contents----Made of high quality BPA free material, our air tight containers are durable and shatterproof. The plastic of these containers is very clear, you can identify the contents without opening them. Transparent body makes it much easier to know exactly how much food left and determine whether it requires replenishment.

keep food dry and fresh----With special sealing mechanism, you can open or close our plastic containers safely by using only two fingers. Simply flip the ring to open or flip the ring down to lock and seal. Airtight dry storage system will always keep things fresh.Easy to clean and dishwasher safe.

24 Reusable Labels---- These labels will help you never confuse flour with powdered sugar or baking powder with baking soda. They are reusable, you can switch contents whenever you need. Just wipe clean with a damp cloth to change what you have written, Peel and Re-stick.