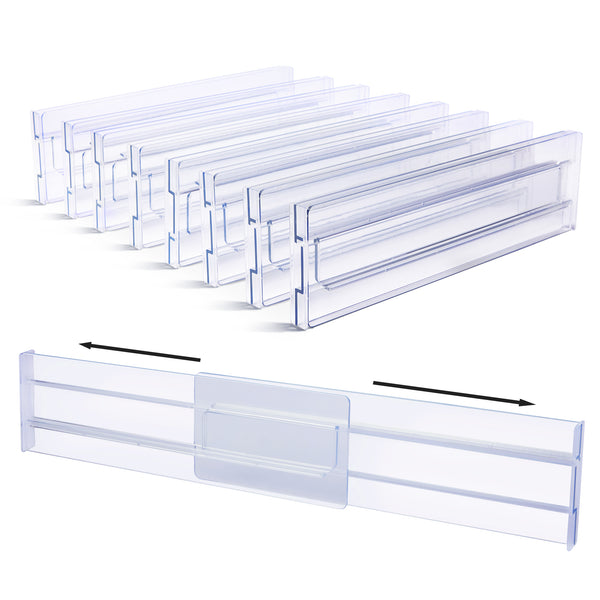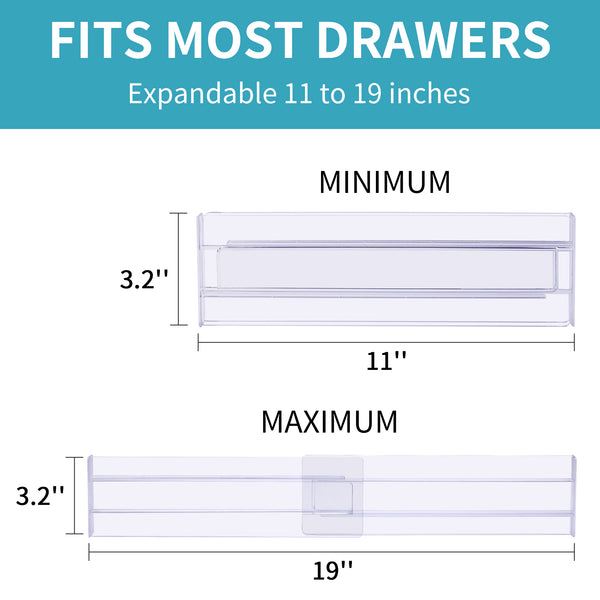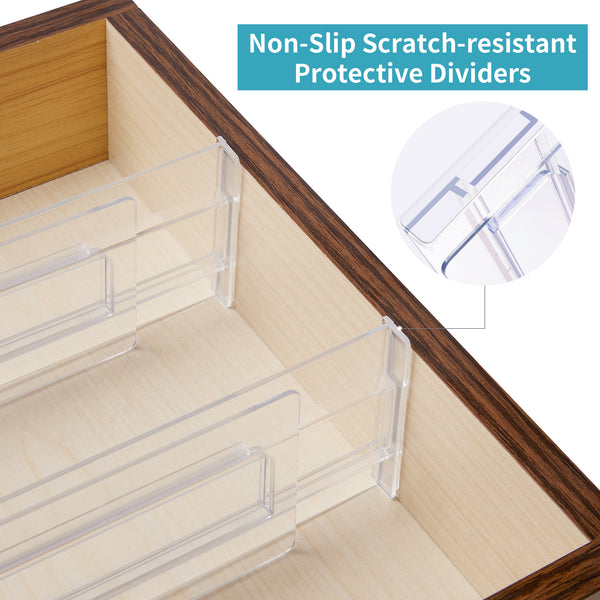 Drawer Dividers Organizers 8 Pack, Vtopmart Adjustable 3.2" High Expandable from 11-19" Kitchen Drawer Organizer, Clear Plastic Drawers Separators for Clothing, Kitchen Utensils and Office Storage
Easy to install---- Compared to most drawer dividers with latches or built-in springs, it is quick and easy to install, no hardware or tools needed. Just glued the double-sided tape(included) on the 2 sides of the divider, tear off the white tapes, put it in the drawer, adjust to a suitable position, and then glued the divider in the drawer, it will expand to the desired length and can be firmly held in place in drawers.

Expandable & Adjustable----Both sides of the divider can be expanded outward, expandable from 11'' to 19', 3.2'' High,the overall length of the divider is 20.6 inches,in order to keep the stability of the divider, the maximum value of the divider don't exceed 19 inches. The drawer dividers are going to help you organize your items and keep your drawers neat at all times.

Multipurpose drawer dividers----Use these to create customized drawer storage anywhere. Ideal for keeping drawers organized and items easy to find what you need. Perfect for organizing junk drawers, clothes, kitchen utensils, office desk supplies, makeups, bathroom clutter and more.

Sturdy Material----Made of durable shatter-resistant plastic; Moreover, the double-sided adhesive tape acts as a buffer to effectively protect the drawers from scratching and marring. The sturdy and durable material will last long, providing convenience and comfort to you. They will play a greater role of organization and storage.

Space saving design----The thickness of the divider is only 0.5'', this design will improve the space utilization, they can be placed vertically or horizontally, and even stacked in the drawer, providing a great deal of flexibility to fit the various sizes of the drawers.