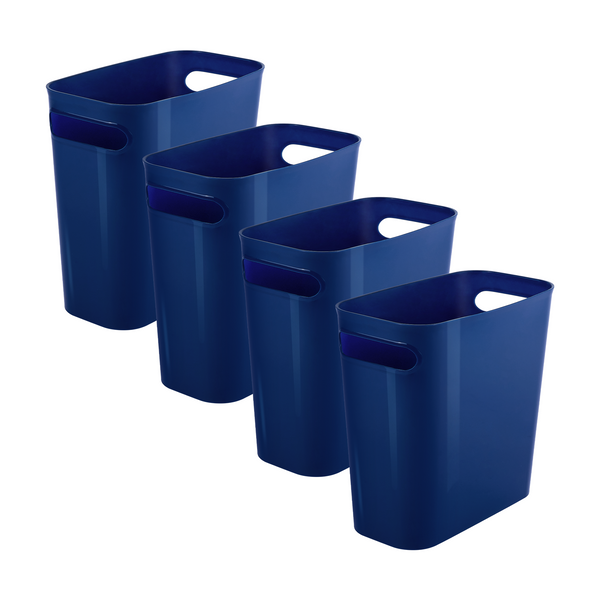 VTOPMART 4 Pack Plastic Small Trash Can, 1.5 Gallon/5.7 L Office Trash Can, Navy Blue Trash Bin with Built-in Handle, Slim Waste Basket for Bathroom, Bedroom, Home Office, Living Room, Kitchen
Compact Design: VTOPMART 1.5 Galloon Navy Blue Trash Can are a great space saver. Each measure 10.4"L x 5.1"W x 9.8"H. This mini trash can is perfect for placing in small spaces. You can tuck it next to the toilet, or in the gaps between cabinets. It can be hidden and saves room!

Convenient to Take: With built-in handle design allows you to carry the trash can and hold it easily. All you need to do is hold the handle while moving the trash so that your hands won't get dirty even if there is trash in the garbage can.

Easy to Clean: The smooth surface ensures that you can easily clean it. Dust can be removed quickly by dipping a cloth in clean water. The interior of the bucket is also smooth, it can be easily rinsed, even food leaks inside.

Premium Material: The design of our small trash can is sleek and modern. Adopting high quality durable shatter-resistant plastic, it is light-weight but sturdy. It is durable enough for daily use.

Widely Used: This plastic trash bin can be put in many places, like the living room, office, bedroom, bathroom, kitchen, under the table or sink. Also, you can use this slim garbage can to put small items like toys and books, or you can use it to pack bathroom and kitchen cleaning supplies.