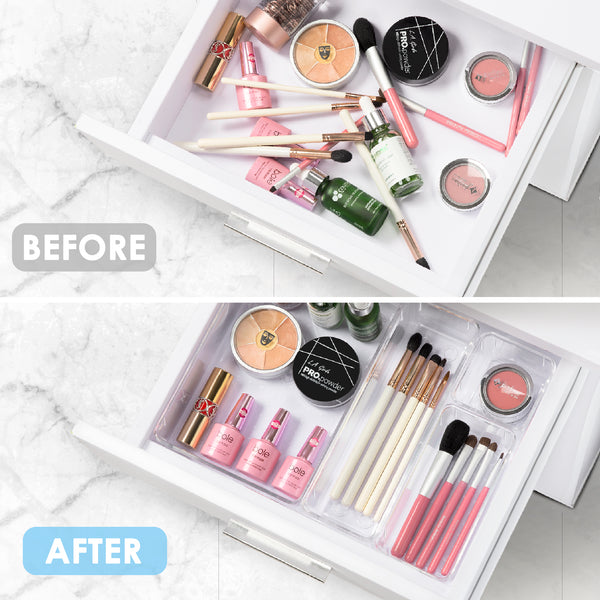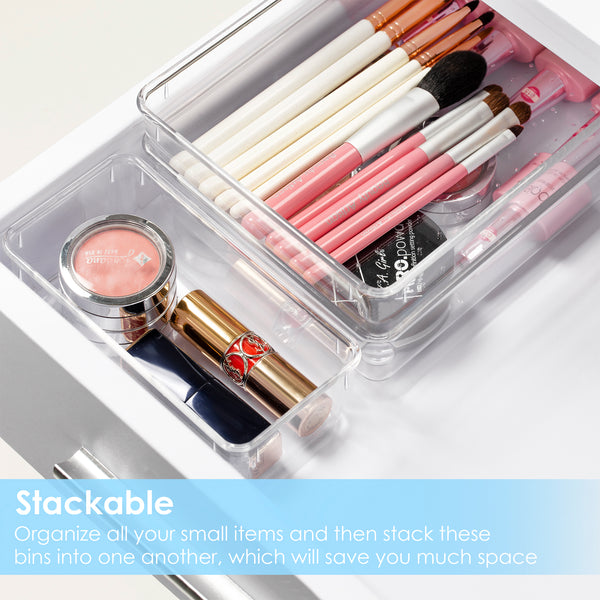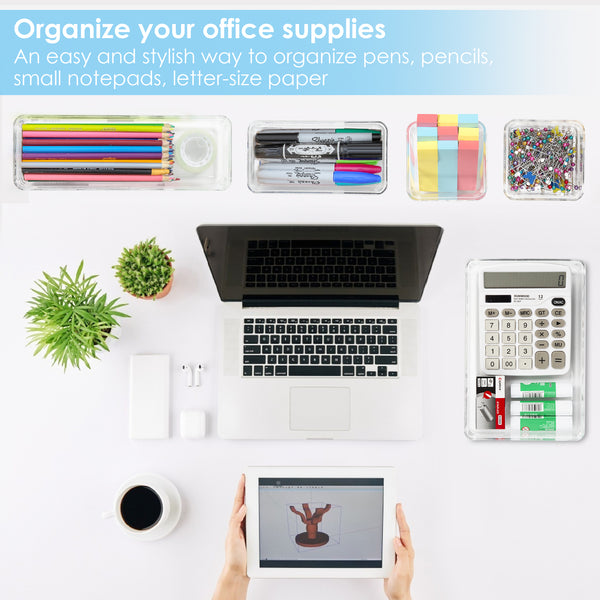 37 PCS Clear Plastic Drawer Organizers Set, Vtopmart 4-Size Versatile Bathroom and Vanity Drawer Organizer Trays, Storage Bins for Makeup, Jewelries, Kitchen Utensils and Office
✔Make Everything Organized ---- These clear versatile drawer dividers trays are perfect for any place in your home. Fit all kinds of drawers, such as vanity / bathroom / kitchen / office drawers, ideal for organizing cosmetics, makeup tools, hair accessories, jewelry, office supplies, craft supplies, utensils, etc.

✔Combination of 4 Different Sizes ---- One set includes 37pcs storage bins in 4 different sizes, which makes you can customize combinations to store items and organize drawer for your specific needs. Includes: 9 x 6 x 2 inches (3pcs), 9 x 3x 2 inches(6pcs), 6 x 3 x 2 inches(14pcs), 3 x 3 x 2 inches(14cps).

✔Non-Slip and Durable ---- Extra 200pcs silicone pads are included, just stick them on the bottom of the plastic trays for non-slip. Made of durable and clear plastic, so you can see what's in it without digging around or making a mess, help you get a neat lifestyle.

✔Stackable Design ---- Organize all your items and then stack these bins into one other, that will save much space especially when you have a narrow drawer. Use these trays to separate your messy drawer, you will find it's so easy to keep things neat and tidy.

✔Easy to Clean ---- Our desk drawer storage bins are easy to be wiped clean with a damp cloth and perfect for keeping everything in its place. Convenient for use in your daily life, make everything look beautiful and better organized.