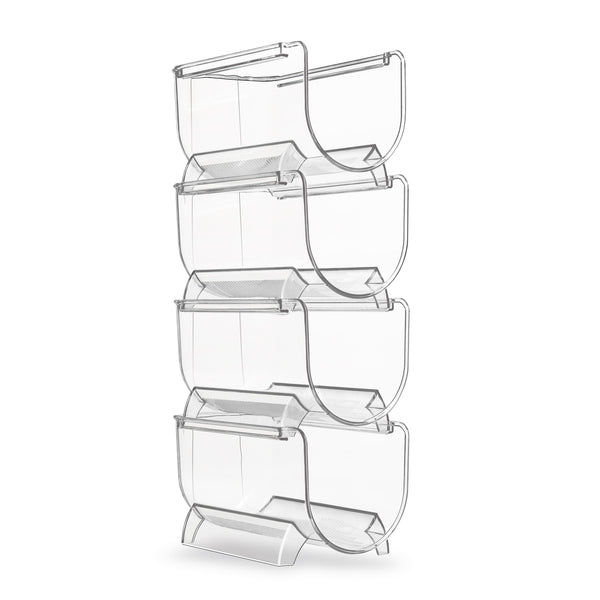 Vtopmart Refrigerator Wine and Water Bottle Holder, 4Pack Stackable Plastic Wine Rack Storage Organizer for Fridge, Cabinet, Pantry, Kitchen Countertops, Clear
Ideal Size for Holding Wine Bottles ---- This wine organizer set includes 4 plastic racks, each rack can hold 1 wine bottle, also ideal for water bottles, shaker bottles, tumblers, protein shaker bottles and blender cups.

Easy to Stack ---- With the special design, you can stack these bottle holders vertically, place side by side to create an appearance of a whole piece. Depending on your space available, move around each piece as needed, stack them high, or just layout one level.

Fits Perfect in Your Fridge ---- If you love keeping your wine in the fridge, these will be a great choice for you. Also Perfect for space utilization in the freezer, cabinets, pantry, kitchen countertops. Allows you to keep 4 bottles in anyplace without taking up a lot of space.

Sturdy and Clean Look ---- Made of durable BPA and shatter-resistant plastic, the clear design makes it easy to identify the product. No more stacking bottles where you can't see what you want to drink. Gives your home a neatly organized feeling.

Easy Care - Do not place in the dishwasher, please hand wash these racks with mild soap and water. Each measures 8" x 4.4" x 4.1".